Erbe for Gastroenterology
Erbe is a family-owned and operated business that has been developing, manufacturing and marketing medical devices for professional use across a wide field of clinical applications for five generations.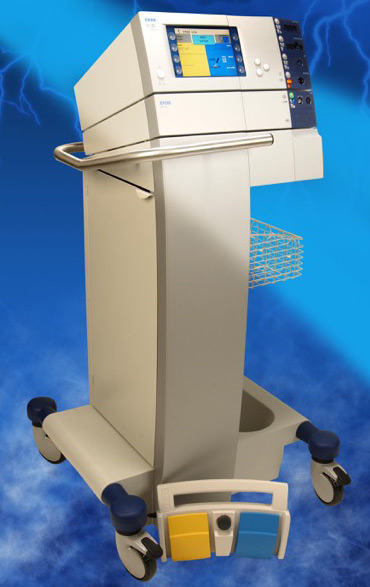 Vio APC™ System
Finally, an argon plasma coagulator that provides the control you need, the way you need it. Only ERBE VIO features APC PULSED Mode. This "smart" feature auto-regulates beam ignition and provides automatic dosing of power for increased confidence.  Download the VioAPC Brochure (PDF)
At ERBE, they have listened to the needs of physicians to develop the revolutionary VIO System, with unparalleled flexibility for maximum physician control and optimal patient outcomes. VIO offers improved regulation and automatic dosing of power, more precise CUT and COAG functions, and three NEW proprietary APC programs— PULSED APC, FORCED APC and PRECISE APC—you get the control you need, the way you need it.
The VIO System offers variable expansion options so you can choose from the basic electrosurgical unit, or the complete universal workstation — or anything in between. Customized system configuration is easy with the fully integrated flash microprocessor technology, which can be programmed for your individual work style, for a specific procedure or for a medical specialty. VIO can reduce setup time, while maintaining optimal patient results. Simply insert your instrument into a receptacle, and VIO's unique
Plug and Play digital instrument recognition technology automatically configures the entire system to your pre-programmed procedural parameters. And, with the optional ReMode footswitch or the ReMode button on the APC handpiece, you can easily toggle between modes for desired tissue effect.
Advantages of PULSED:
Diverse Effects — PULSED mode gives you the option of choosing PULSED 1 or PULSED 2, enabling an expanded range of coagulation effects and offering greater control.
Consistent Coagulation — Even at low power settings PULSED offers a homogeneous beam of coagulation.
Simplified Control — Reduces the need for constant footpedal interaction, allowing you to focus more on target tissue areas.
FiAPC probes
The connection cable and filter of the FiAPC probe are completely integrated in the probe ("all in one"). FiAPC single-use probes can be immediately used in the OR. There is no need to prepare the connecting cable – which means no preparation costs for the cable. This represents a significantly lower price per APC application compared to conventional single-use APC probes. "Plug and play" doesn't get much easier and cheaper than that.
Protection Against Contamination
A membrane filter prevents possible contamination of the APC device through the reflux of blood or secretions. The filter and the connecting cable are firmly integrated in the APC probe. This all-in-one solution makes handling the probe much easier. Plug and play is supported by instrument detection. FiAPC probes comply with the hygiene recommendations for endoscopic instruments of the Robert Koch Institute.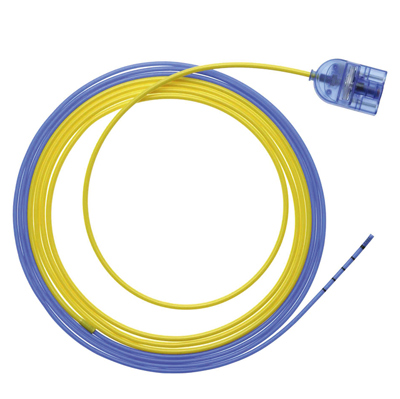 The VIO 200 S, offers various cutting and coagulation modes with defined effect levels to provide the physician flexibility in interventional applications.
The Erbe VIO 200 S also has improved voltage regulation and automatic power dosing, with as much as needed or as little as possible – millisecond to millisecond.
The Erbe VIO 200 S unit offers automatic output dosage for all regulative technologies:
Constant Voltage Regulation – for reproducible cuts with optimally adjusted, automatic power output
Arc Regulation – for reproducible, efficient cuts in tissue with an extremely low or high impedance
Power Dosing – automatically delivers lowest effective power in all modes, including both Cut and Coag
Features:
Power Peak System PPS™ – for optimal support during the initial cutting stage, especially low-contact impedance situations, allowing the electrode to start in contact with target tissue
Effect settings for each mode
AUTO START and AUTO STOP features in BIPOLAR SOFT mode
Up to 9 storable programs
User-Friendly interface (FocusView – reduces the visual information to the essentials, simplifying the operation if the unit)
Audio and Visual Error Recognition System
Benefits:
VIO technology – Logical, simple, and easy to use
ENDO CUT ® I and Q for use with snare wires and sphincterotomes Argon compatible
Unit includes:
CUT Modes
AUTO CUT
ENDO CUT I
ENDO CUT Q
COAG Modes
BIPOLAR SOFT COAG
SOFT COAG™
FORCED COAG
ErbeJet 2
Simple operation via the display
Easy to integrate, compatible with existing systems
Can be combined with the VIO electrosurgical system
No thermal trauma to the margins of the incision, the surrounding tissue is left intact
Extremely uniform water jet; delicate, precise and reproducible effects
Integrated suction with individually adjustable run-on time
Ergonomically designed single-use instruments
Foot switch with ReMode function: remote control straight from the operating table
Individually configurable programs in simple text: switch on the unit and begin working
Spares blood vessels, nerves and organs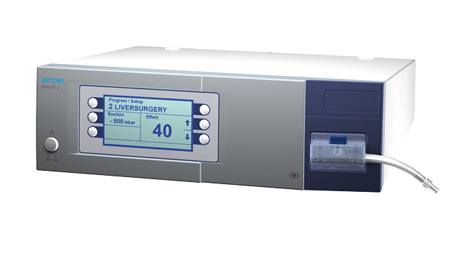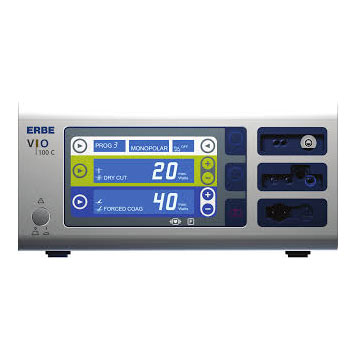 VIO[®] 100 C – Electrosurgical Generator
The VIO 100 C is a compact lightweight unit suitable for less-invasive procedures. The unit has an interface that is capable of showing all modes and footswitch configurations.
Features
Compact/Lightweight
Up to 4 storable programs
Return Electrode Monitoring (REM)
Modes available
AUTO CUT® – Electrosurgery (ES) cutting with minimal to
medium hemostasis.
DRY CUT – ES cutting with intense hemostasis.
SOFT COAG™ – Non-sparking, soft monopolar contact coagulation
with minimal sticking and carbonization.
FORCED COAG – Effective, fast, coagulation.
BIPOLAR SOFT COAG – Non-sparking, soft bipolar contact coagulation
Properties
BIPOLAR COAGULATION
MONOPOLAR CUTTING
MONOPOLAR COAGULATION