Convenience of use increases staff compliance and turnover time. Cygnus Medical's biomedical products are the first step to a cleaner facility.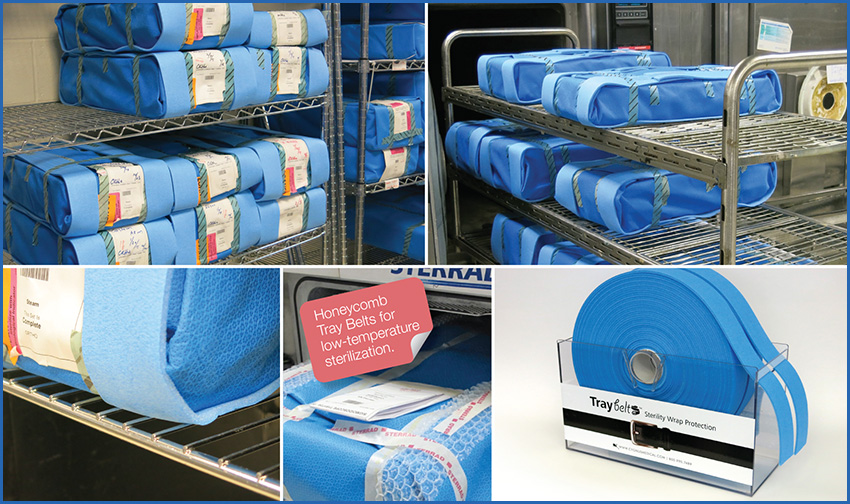 Tray Belts Sterile Wrap Protection
Threats to the integrity of CSR wrapped trays are lurking everywhere. Tray Belts protect wrapped trays from the external damage that can occur during sterilization, storage and transport. Tray Belts provide a cushioned barrier from the many sharp edges that can easily rip and tear sterile wrapping. The Belts also prevent abrasion marks and damage caused by dragging the wrapped tray. Tray Belts are compatible with steam sterilization. Tray Belts are also available in BeeSafe™ Honeycomb material which is compatible for use in low-temperature sterilizers.
Attack Biofilm with Draco Deep-Cleaning Pads
Draco™ Deep-Cleaning Pads effectively remove adhered contaminants on flexible endoscopes and stainless steel surgical instruments. When biofilm colonies develop, the extreme stickiness of the extracellular polymeric substance (EPS) matrix makes them very difficult to remove. Enzymatic detergents alone are not able to effectively remove biofilms. The Draco scrubbing layer breaks the bonds that adhere biofilm clusters to surfaces. The Draco microfiber layer then captures and removes these harmful pathogens. The contour foam layer easily wraps around instruments for thorough cleaning. Also available in a fiber-free cleaning pad for sterile stainless steel surgical instruments.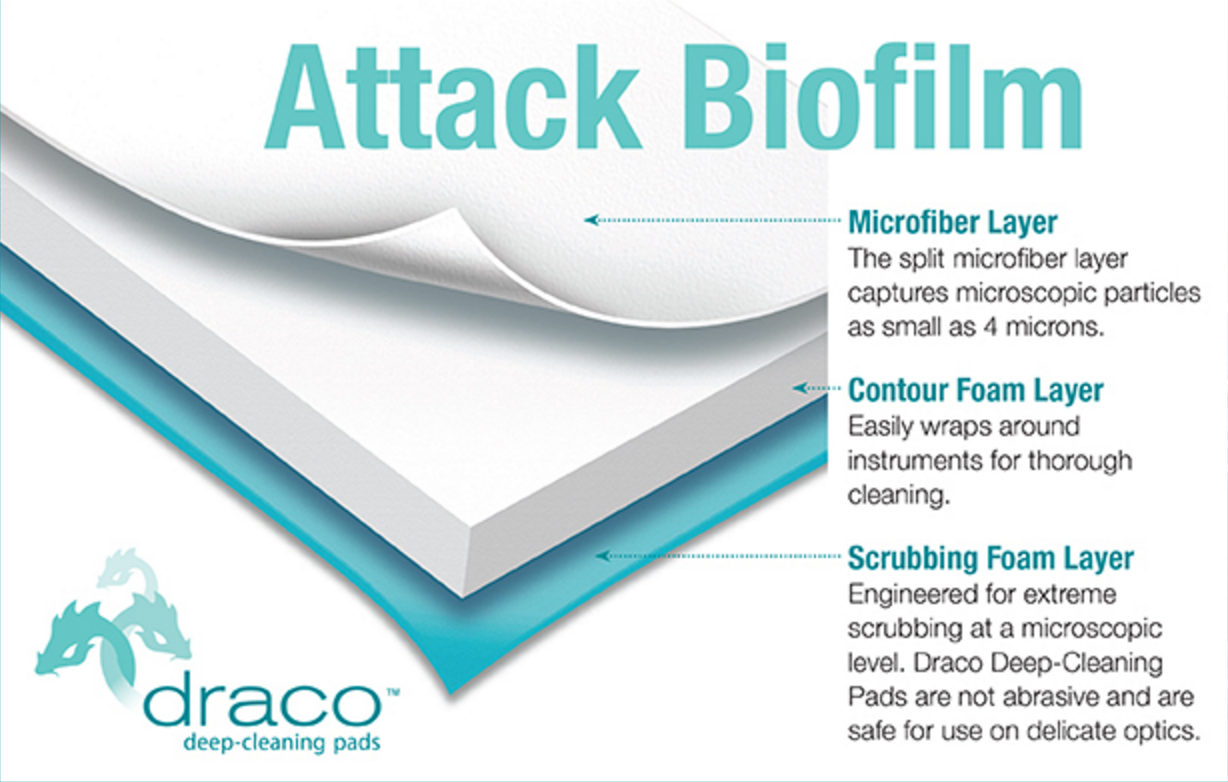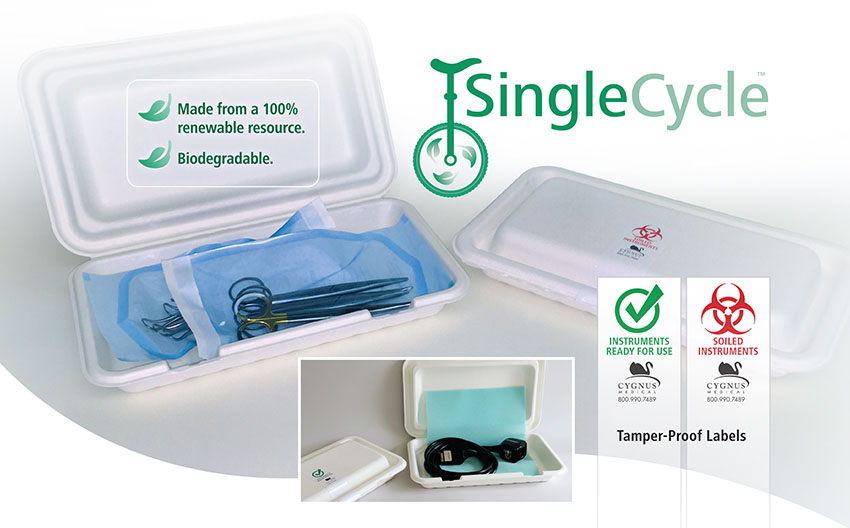 Disposable Instrument Tray
Solve central sterile bottlenecks. Remember that time when you needed an instrument set, but central sterile was short on trays? Never again with Cygnus Medical's SingleCycle Instrument Tray. Disposable and steam sterilization compatible, SingleCycle is a cost-effective option for instruments traveling to different floors or off-site for reprocessing. It's designed to protect even the most delicate instruments from damage and provides secure, tamper-proof protection of soiled instruments. Keep them nearby to avoid shortage problems during even the busiest times. Single-Cycle is biodegradable and made from a 100% renewable resource. 
Single-Use and Disposable
Tamper-Proof Labels
Steam Sterilization Compatible
Protects Delicate Instruments
Cost-Effective
Clear Path™ Disposable Microfiber Wipers
CAPTURE
Clear Path Disposable Wipers use split microfiber technology to capture spores and other viable pathogens at a microscopic level.
REMOVE
Clear Path Disposable Wipers remove gross contamination and provide a more potent disinfection of pathogens. Disposable Wipers can be used with any brand of surface disinfectant and insure maximum disinfectant contact time.
DISPOSE
Clear Path Disposable Wipers are single-use and are disposed of immediately. By capturing and disposing of spores and other viable pathogens, Clear Path Wipers prevent the cross-contamination of surface areas.
Laundered Wipers vs. Disposable Wipers
Polyester and cotton wipers have a limited ability to remove soil and are heavily dependent on disinfectant contact time to eliminate harmful pathogens.
When contact time is compromised or inadequate, disinfection may not occur and the contamination is transferred from one surface area to another.
Spores often remain in laundered microfiber wipers potentially cross-contaminating washing machines and other laundered items.
Lint-Free Microfiber OR Wipers
Heat-Sealed Edges
Packaged Sterile
X-Ray Detectable
Captures and Removes Superbug Pathogens
C.Diff, VRE, CRE and Norovirus
Areas that Benefit from Enhanced Cleaning
Operating Rooms
Intensive Care and Cardiac Care Units
Neonatal Units
Sterile Processing Departments
Procedure Rooms