PHS West, Inc. for Endoscopy Carts
Featherweight® Endoscopy Carts are fully customizable for whatever your department requirements may be. PHS West, Inc. endoscopy carts are designed to be 100% custom built so we can meet your exact equipment and supply needs, and most importantly, budget requirements. Download PHS West, Inc Cart Brochure (PDF)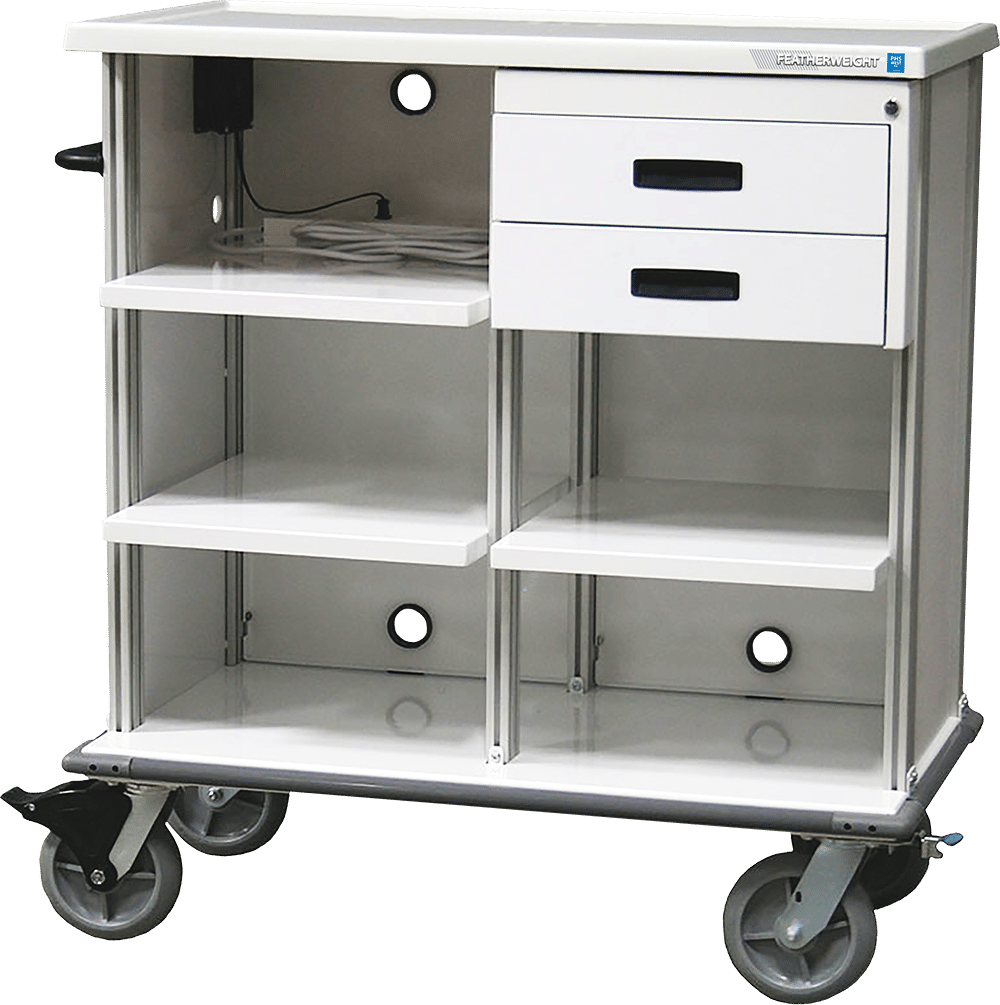 Procedure
Our Featherweight® Double, Single, and Single Tower procedure room carts are the best operational solution for your endoscopic equipment needs.
Featherweight® Double Endoscopy Cart
The Featherweight® Double Endoscopy Cart gives you the ability to house all equipment and supplies on one cart. Flexible positioning allows all of your supplies to be available for convenience during procedures for all medical professionals from technicians to physicians.
Featherweight® Single Short Endoscopy Cart
The Featherweight® Single Short Endoscopy Cart is perfect when something small-scale and simple is needed in a confined procedure room.
Travel
Since 1997, PHS West, Inc. has created long-term relationships with you, the endoscopy nurse, and endoscopy technician. Our tenure offers us the ability to understand your need for a travel endoscopy cart that is the most compact and concise design available, yet able to contain all of the necessary equipment and medical supplies. The Featherweight® Endoscopy Travel Carts have countless structural design capabilities that can accommodate virtually any professional requirement.
Featherweight® SPECS™ Motorized Endoscopy Cart
Every piece of equipment necessary for a travel case – all on a motorized cart! Organize supplies in a trailer supply cart which is unique to individual procedures. The image monitor is placed on a rolling stand that is attached to the whole system. Simply connect the supply trailer and image monitor and you're on your way.
Featherweight® Motorized Double Endoscopy Cart
The Featherweight® Motorized Double Endoscopy Cart is the pillar of motorized travel carts. Each endoscopy cart is built and designed by our clients with the help of our consultants to make sure all of your equipment and supplies are organized optimally for your work flow with a patient.
Featherweight® Double Endoscopy Cart
Perfect for situations when travel is no issue and  equipment needs are minimal, the Featherweight® Double Endoscopy cart is the ideal solution.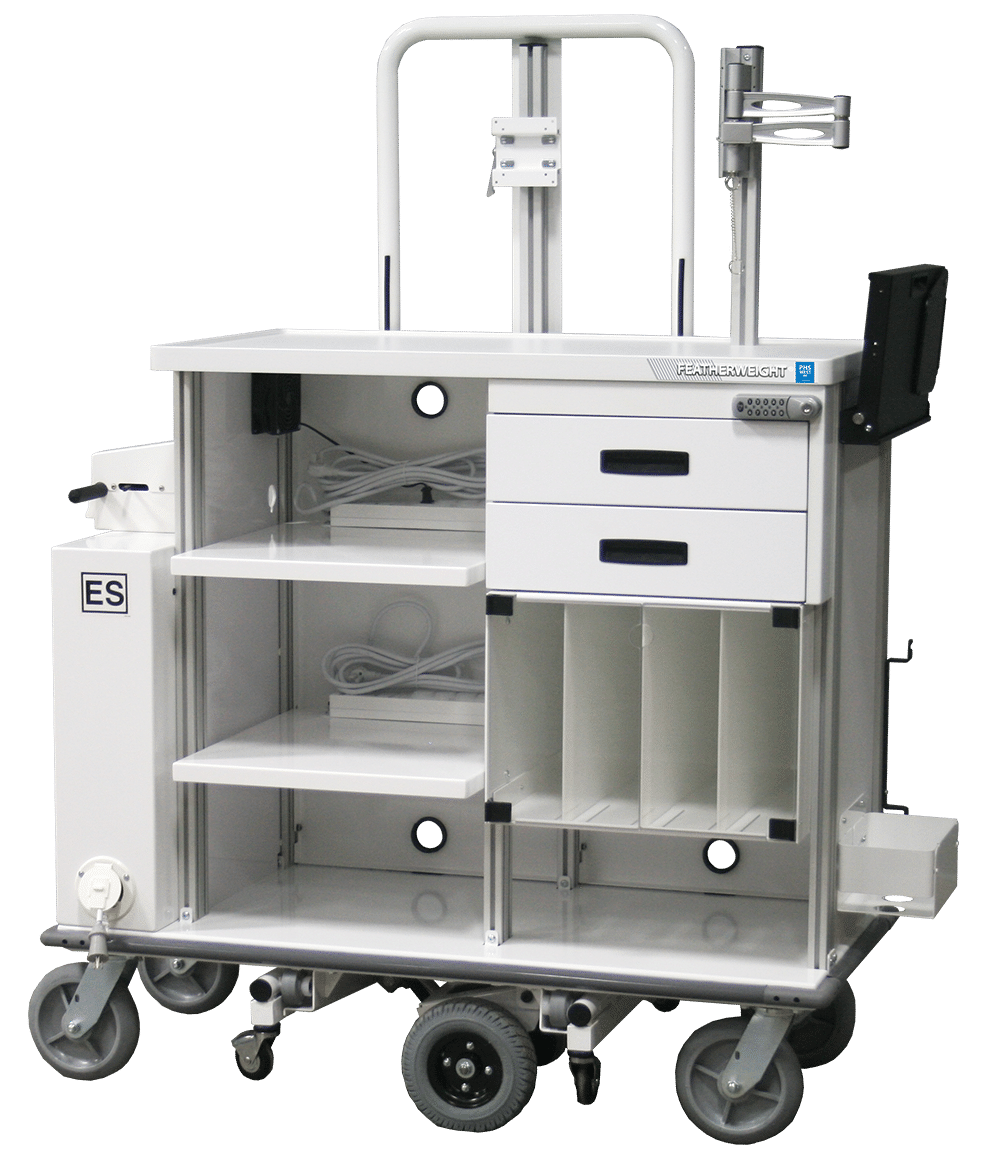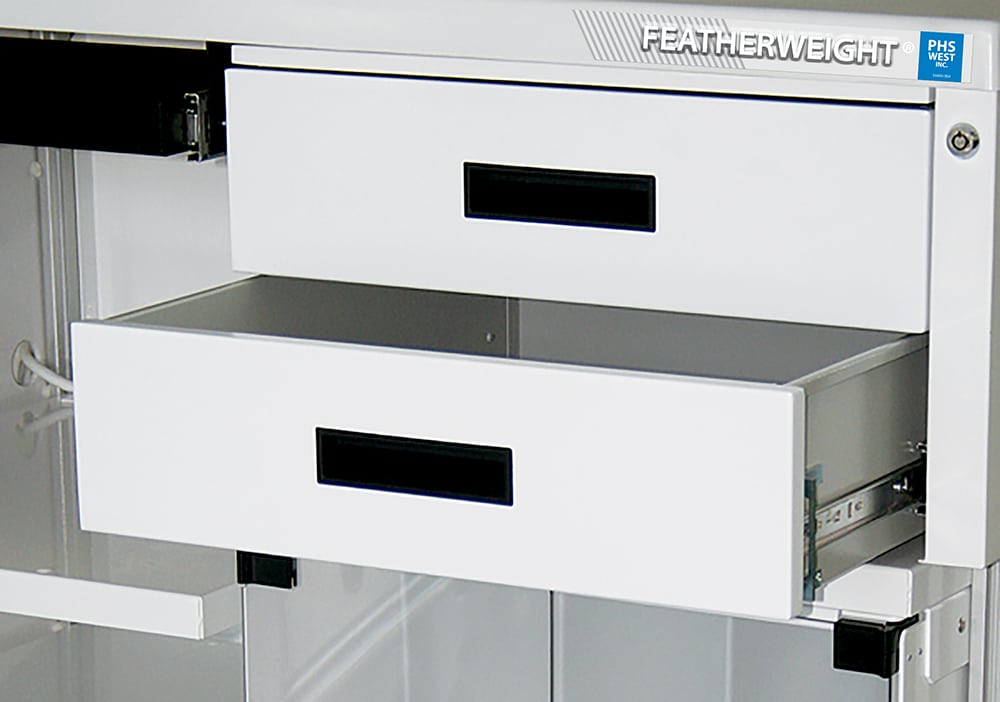 Storage
Locking Drawers | 4″, 6″, 8″, 12″
Multiple drawer sizes are offered in our "gang" locking drawer cabinets. Using a single lock will secure each of the drawers in a cabinet instead of needing to lock drawers individually. These 4", 6", 8", and 12" drawers are able to be stacked in any combination up to a total of 12". Depending on the cart model and the supplies needed on the cart, multiple drawer cabinets can be added to your design.
Drawer Dividers
Place drawer dividers into any drawer for exceptional organization. Adjust dividers to account for different sizes of supplies.
Storage Cabinets
An array of storage cabinets are available and calibrated based on the type and amount of supplies to be used during procedures.
Tilt Bins
For storing small items, tilt bins on a riser are a great option for any of our endoscopy carts. Several combinations are available, including four large bins and/or five small bins with an option to upgrade to locking bins.
Glove Box Holder
Glove box holders accommodate up to four boxes of gloves, offering you more space in drawers or on shelves with convenient access to clean gloves whenever they are needed.
Accessories
All Featherweight® Endoscopy Carts can be fully customized. Below are the accessories that are available on all of our models of endoscopy carts.
Scope Holder
A common option are Scope Holders that are designed to fit scopes in the manner in which the manufacture intended. Firmly drape the scope to free up available space on your work surface for other uses.
Keyboard Tray with Mouse Surface
The Keyboard Tray and Mouse Surface locks and conceals the keyboard when not in use. It also folds down on the cart, enabling you to use in a convenient location directly next to the monitor to ensure maximum workflow efficiency. When not in use, the Keyboard Tray and Mouse Surface are stored securely under the work surface and glide out easily when needed.
Tank Holder
Tank Holder Options:
Argon tanks
Oxygen tanks
Co2 tanks
Foot Pedal Holder
Keep the foot pedals of your equipment on the outside of the cart to avoid clutter for other storage needs.
Wire Basket
Wire baskets attach to the end of the cart for extra storage.
Flip Up Work Surface
The flip up work surface is available and added to the end of a cart for times when extra work space is needed. Simply fold them down when not in use, and flip back up using braces that fall into place when necessary.
CPU Mount
When space is confined within the cart, our CPU Mount allows you to keep your computer on the outside edge, a great solution that allows everything fit.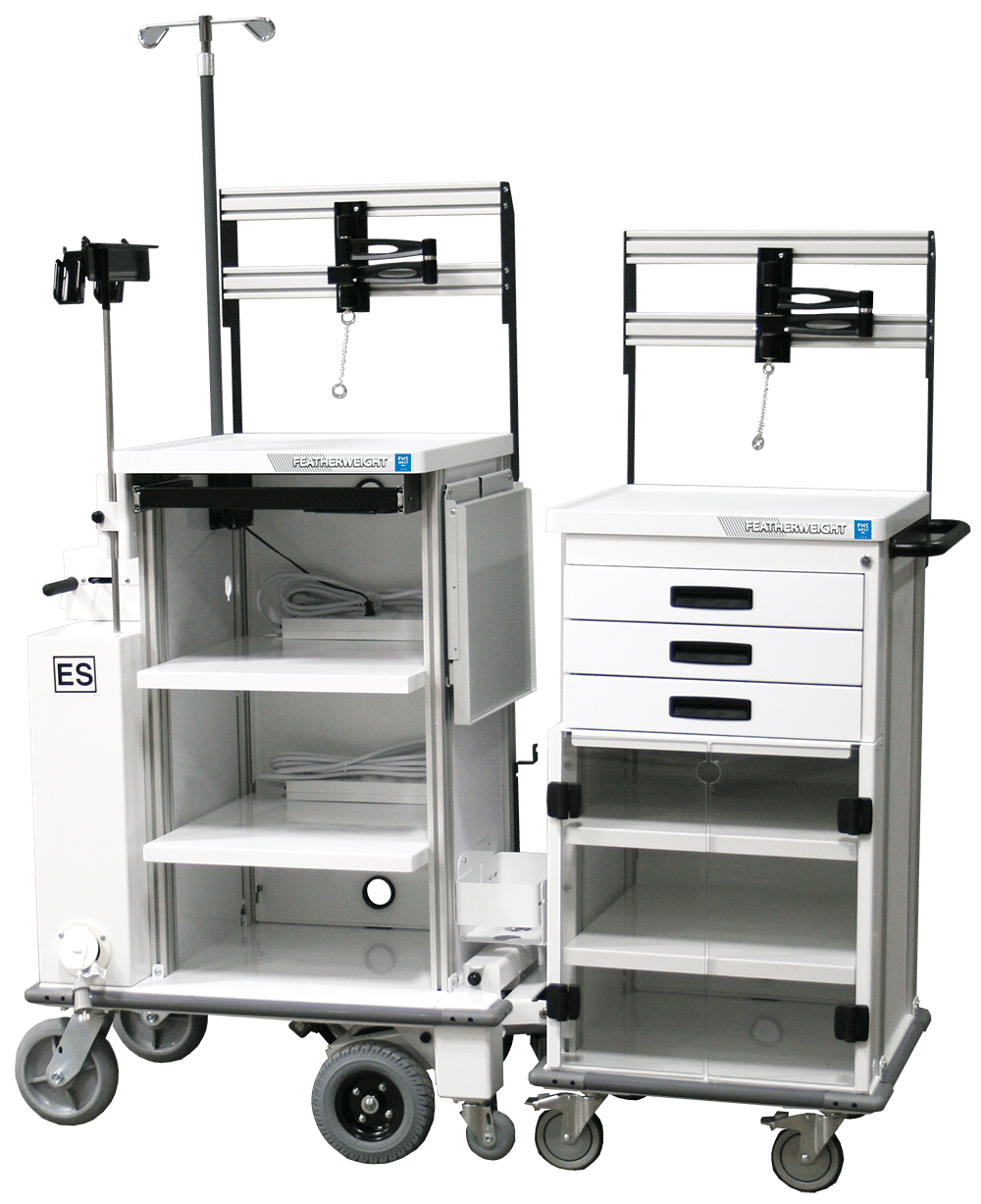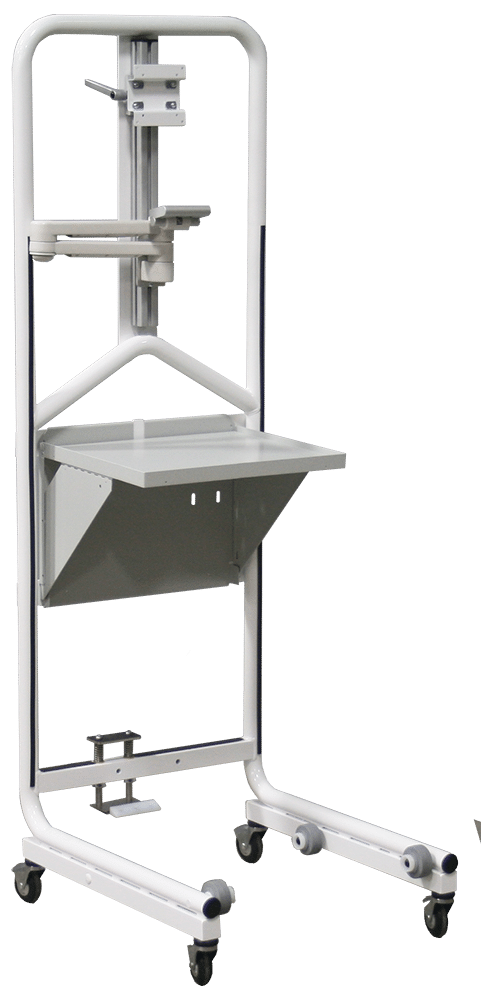 Monitor Arms/Carts
PHS West, Inc. equipment accommodates all of your current monitors on any of our monitor stands, carts, or mounts.
Monitor Arm Options
Custom mounting options are available based on your specific monitor needs.
Monitor Riser
Clear out space on your work surface by mounting your Monitor Arm to the Monitor Riser.
Monitor Stands
The Featherweight® Monitor Stands are conveniently positioned for an easily accesible view of the scope image in endoscopy procedure rooms.
Our Travel options are made even easier by connecting the Monitor Stand to your travel cart when you're on the move. Once at the patient's bedside, the Monitor Stand is able to disconnect from the cart, allowing for standard positioning capabilities in endoscopy procedure rooms.
Breakaway Monitor Cart
The Breakaway Monitor Cart is stored below and behind the Featherweight® Double Endoscopy Cart. Effortlessly disconnect the monitor cart for convenient positioning of the image monitor during a procedure.
Check out the VIDEO links below for an in-depth look at PHS West, Inc. Featherweight® Endoscopy Carts: