Convenience of use increases staff compliance and turnover time. Cygnus Medical's biomedical products are the first step to a cleaner facility.

Properly dried channels reduce the risk of infection. Studies indicate there is a strong correlation between moisture and microbe colonization within flexible endoscopes. The Airtime Instrument Channel Dryer dries flexible endoscope channels, as well as channels in other cannulated surgical instruments. A scope removed from the AER can be dried quickly, so it will not be stored, or put into immediate use, with wet channels. Download Airtime Standards (PDF)   Download the Airtime Brochure (PDF)
Airtime uses .01 micron HEPA filtered air to dry endoscope air/water, suction, and auxiliary water channels after automated reprocessing.
Uses two independent pumps and timers that will dry two scopes simultaneously. Airtime's dual screen allows for two scopes to be dried with independent start and stop times.
Line pressure channel sensors will immediately shut off the Airtime pump and alert the user of a potentially clogged channel. Line pressure levels can be changed to accommodate various instruments.
Options: On a counter stand, wall rail installation, or IV pole installation.
Attack Biofilm with Draco Deep-Cleaning Pads
Draco™ Deep-Cleaning Pads effectively remove adhered contaminants on flexible endoscopes and stainless steel surgical instruments. When biofilm colonies develop, the extreme stickiness of the extracellular polymeric substance (EPS) matrix makes them very difficult to remove. Enzymatic detergents alone are not able to effectively remove biofilms. The Draco scrubbing layer breaks the bonds that adhere biofilm clusters to surfaces. The Draco microfiber layer then captures and removes these harmful pathogens. The contour foam layer easily wraps around instruments for thorough cleaning. Also available in a fiber-free cleaning pad for sterile stainless steel surgical instruments.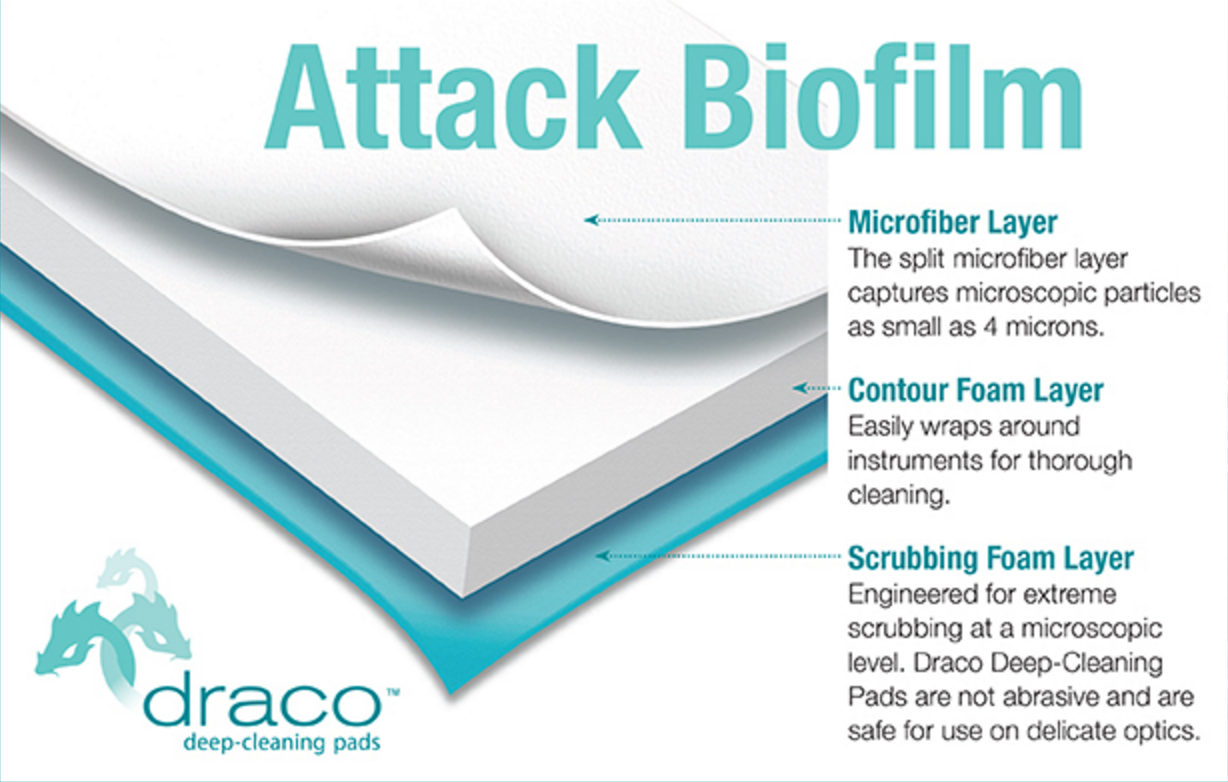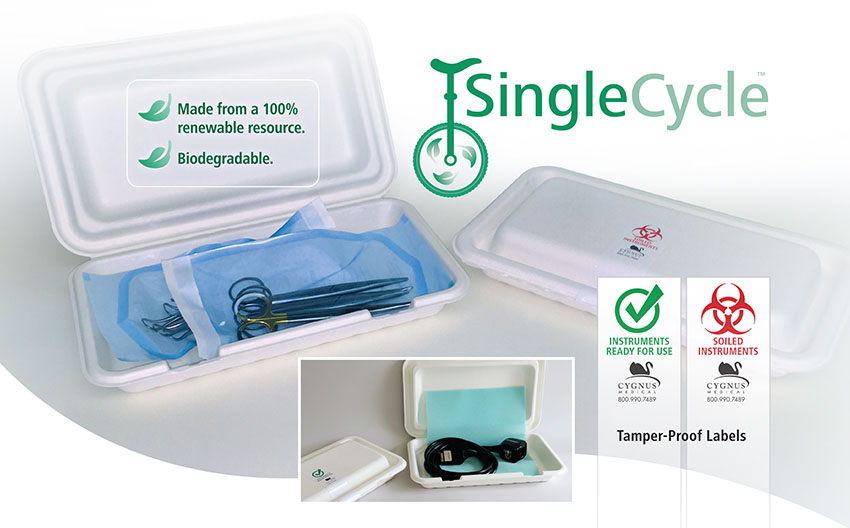 Disposable Instrument Tray
Solve central sterile bottlenecks. Remember that time when you needed an instrument set, but central sterile was short on trays? Never again with Cygnus Medical's SingleCycle Instrument Tray. Disposable and steam sterilization compatible, SingleCycle is a cost-effective option for instruments traveling to different floors or off-site for reprocessing. It's designed to protect even the most delicate instruments from damage and provides secure, tamper-proof protection of soiled instruments. Keep them nearby to avoid shortage problems during even the busiest times. Single-Cycle is biodegradable and made from a 100% renewable resource. 
Single-Use and Disposable
Tamper-Proof Labels
Steam Sterilization Compatible
Protects Delicate Instruments
Cost-Effective
Lapses in the cleaning of reusable endoscope transport trays can lead to cross-contamination in the surgical work area. The Oasis & Oasis PLUS Scope Transport Trays offer an economical single-use alternative that protects both patients and staff from contamination and infection. Bedside cleaning is performed within the trays, keeping residual run-off contained. This creates a cleaner work environment and reduces the risk of hospital-acquired infections. Oasis & Oasis PLUS Trays are latex-free. Download Oasis Brochure (PDF)
Immediate bedside cleaning. The First Step Bedside Kit simplifies the endoscope cleaning process, and provides the supplies needed to prevent bioburden from drying and solidifying in endoscope channels. Available in Ready-to-Use and Add Water Kits. Download First Step Brochure (PDF)
100% compliant with SGNA and manufacturers' guidelines.
Safe for use on all flexible endoscopes.
Available with a variety of cleaning pad options.
First Step Pouches are user-friendly and space-efficient.
Ensures the proper dilution of enzymatic detergent.
Available in 100 ml, 200 ml and 500 ml sizes.
Clear Path™ Disposable Microfiber Wipers
CAPTURE
Clear Path Disposable Wipers use split microfiber technology to capture spores and other viable pathogens at a microscopic level.
REMOVE
Clear Path Disposable Wipers remove gross contamination and provide a more potent disinfection of pathogens. Disposable Wipers can be used with any brand of surface disinfectant and insure maximum disinfectant contact time.
DISPOSE
Clear Path Disposable Wipers are single-use and are disposed of immediately. By capturing and disposing of spores and other viable pathogens, Clear Path Wipers prevent the cross-contamination of surface areas.
Laundered Wipers vs. Disposable Wipers
Polyester and cotton wipers have a limited ability to remove soil and are heavily dependent on disinfectant contact time to eliminate harmful pathogens.
When contact time is compromised or inadequate, disinfection may not occur and the contamination is transferred from one surface area to another.
Spores often remain in laundered microfiber wipers potentially cross-contaminating washing machines and other laundered items.
Lint-Free Microfiber OR Wipers
Heat-Sealed Edges
Packaged Sterile
X-Ray Detectable
Captures and Removes Superbug Pathogens
C.Diff, VRE, CRE and Norovirus
Areas that Benefit from Enhanced Cleaning
Operating Rooms
Intensive Care and Cardiac Care Units
Neonatal Units
Sterile Processing Departments
Procedure Rooms