Helping to keep medical industries safe
Rigel Medical is part of the Seaward Group – a market leader in industrial and biomedical test and measurement solutions.  The company's established reputation for product innovation and technical expertise reflects its knowledge and understanding of the market and ensures the superiority of its products.
Rigel is one of the longest established brand names in the industry with its origin dating back to the 1970's.  Designed by the Liverpool Hospital University, rigel launched the world's first IEC 601 electrical safety analyser, known as the Rigel 8001 Liverpool Safety Tester.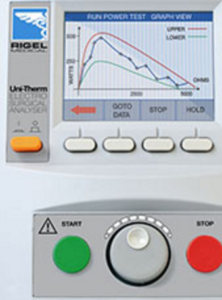 Rigel Uni-Therm High Current Electrosurgical Analyzer
The compact and small foot print Rigel Uni-Therm automates all ESU related performance tests.
All IEC 60601-2-2 leakage tests
Onscreen power profile analyses
Onboard automation and datacapture
Full colour user-interface
High current test capability up to 8 Ampere RMS
Non-inductive loadbank from 0 – 5115Ω
The new high performance Rigel Uni-Therm electrosurgical analyzer accurately measures the performance of electrosurgical generators including high frequency leakage, high current, power distribution and patient return plate alarm testing.
Compliant with IEC 60601-2-2, the Uni-Therm electrosurgical analyzer is capable of verifying and calibrating all major electrosurgical generators whilst guiding the user through all test procedures automatically and most of all safe.
Rigel SafeTest 50
A simple, robust, and cost-effective medical safety analyzer for general electrical safety testing. The SafeTest 50 is capable of testing 120-240V.
Rigel Medical SafeTest 50 PriceThe Rigel SafeTest 50 is a robust, reliable, and dedicated medical safety analyzer. It is ideal for testing high volumes of medical and laboratory equipment that does not require patient lead testing, such as beds, hoists, infusion pumps, CPAP's, and centrifuges etc.  The SafeTest 50 is capable of testing  120-240V.
Compact, robust and portable design
Fast step-through of test routines with minimized power breaks
Manual control of fault conditions
Tests to a range of international standards including IEC 60601, 62353, 61010 and NFPA-99
Large color display with clear read-out
Secondary earth warnings to ensure valid test setup
Accurate high current, low energy earth bond testing
Supplied with free, protective carry case
Multi voltage – operates on any mains supply between 90-264V / 48-64Hz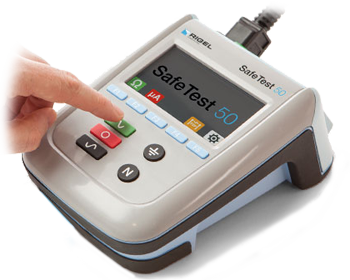 Rigel Multi-Flo
Infusion Pump Analyzer that can double your test capacity
IEC 60601-2-24 compliant
1, 2 and 4 individual channel configurations
Instant flow and pressure
Compatible with all infusion devices
On-screen trumpet curve
The market defining Rigel Multi-Flo Infusion Pump Analyzer is a portable instrument to accurately and swiftly verify the performance of all infusion devices.
The Rigel Multi-Flo infusion pump analyser offers ease of use, high accuracy readings and productivity improvements right from the start.
With the choice of single or multi-channel configuration, the Multi-Flo can test up to four infusion devices simultaneously across a range of 10μL up to 1500mL per hour, with all results being stored in the large internal memory. The Multi-Flo delivers unique accurate and instantaneous flow measurements even at low flow rates, enabling the user to test twice as many infusion devices within the same time period as other volumetric based analysers.
Rigel Uni-Pulse – COMING SOON!
Defibrillator Analyzer
IEC 60601-2-4 Compliant
Mono and bi-phasic
Waveform capture, store & replay
Built-in 12 lead ECG simulator
The innovative Rigel Uni-Pulse Defibrillator Analyzer is the most compact and versatile instrument on the market, able to accurately verify all mono- and bi-phasic defibrillators and AED's.
Unlike most conventional defib analyzers, the Uni-Pulse is able to test all defibrillators on the market today including standard bi-phasic, modulated bi-phasic, tri-phasic waveforms and legacy mono-phasic defibrillators.
The Uni-Pulse defibrillator analyzer is unique in combining on-screen waveform capturing and built-in 12-lead ECG simulator. The Uni-Pulse also has onboard memory.