Cygnus Medical Nasopharyngeal and Oropharyngeal Sterile Diagnostic Swabs
Cygnus Medical Nasopharyngeal and Oropharyngeal Sterile Diagnostic Swaps
Nasopharyngeal swabs and their ability to collect mucus and saliva and release them into the transport medium for diagnostic testing are of paramount importance in the detection of bacterial and viral infection. US FDA and CDC recommends polyurethane swabs for diagnostic testing. Cygnus Medical's Nasopharyngeal and Oropharyngeal swabs utilize polyurethane foam technology that provides an exceptional surface area to capture a maximum quantity of target fluids, while not bonding to those fluids, providing high subject recovery. Proprietary swab cleaning processes and validated sterility ensure no background from RNase and other contaminants for accurate test results. While delivering precise results, comfort in Nasopharyngeal swabbing is achieved with long, slender, flexible handles keeping patient discomfort to a minimum while reaching remote areas of the nasal septum and oral cavities. The handles utilized in Cygnus Medical's swabs are robust to allow for quick, maximum capture of mucus and saliva, and release with low patient discomfort.
Call For Pricing
Cygnus medical 800.990.7489 | WWW.CYGNUSMEDICAL.COM
Features
High surface area capture the maximum amount of mucus and saliva.
No bonding to swabbed body fluids.
Validated Sterile, clean swab surfaces.
Thin, high-flexibility handles with 80mm break point for Nasopharyngeal swabs.
Robust, snappable handles for Oropharyngeal swabs.
Benefits
Ability to reach remote areas of the nasal septum and oral cavities
High recovery rates of body fluids for accurate test results.
Maximum patient comfort.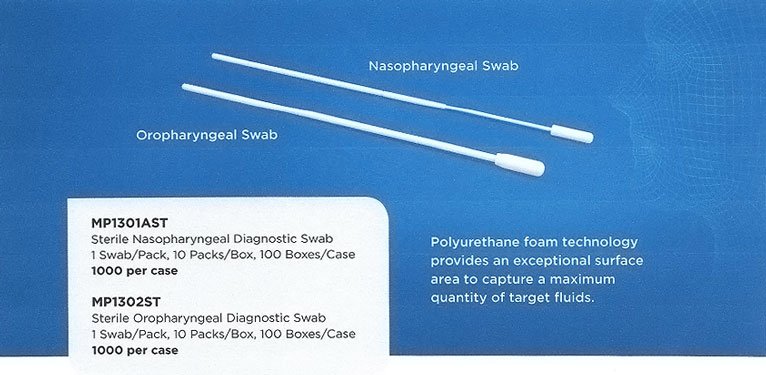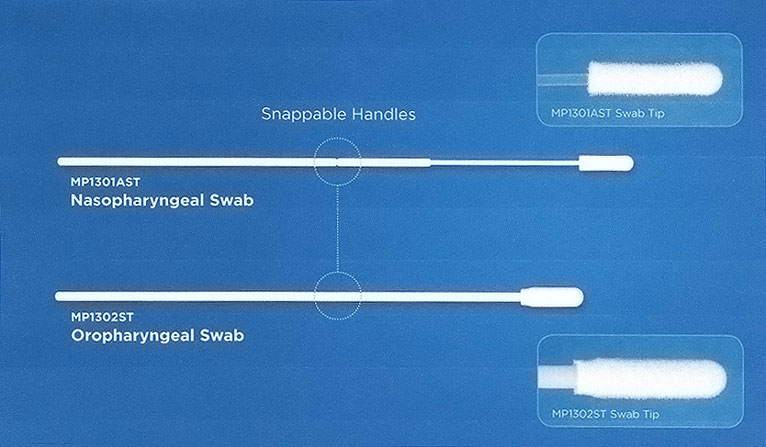 Cygnus Medical 800.990.7489 | www.cygnusmedical.com 965 West Main Street, Branford, CT 06405 | Email: sales@cygnusmedical.com